Get Your Canada Boating License Online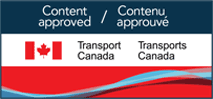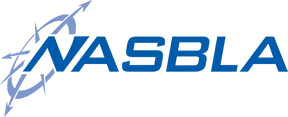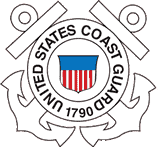 Take this Canada–approved course to complete your online boating safety education. Boat-ed.com is a delegated provider for the Transport Canada.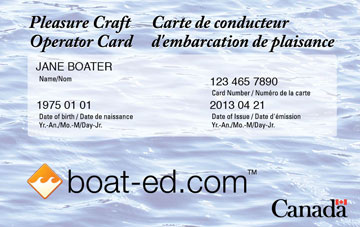 Accepted in all Provinces
Get your Canada boating license in 3 steps.
The official term is Pleasure Craft Operator Card (PCOC), which is good for all provinces.
Study and write the Official Transport Canada Exam.

The online course is $49.95 CAD and may be completed using a desktop computer, laptop, or mobile device. Upon completion, you'll take the Transport Canada Boating Safety Test (TCBS Test). You have two attempts to pass the test. If you fail your first attempt, you must wait 24 hours before your second attempt.

Print your Temporary Boating License.

Once you successfully pass the TCBS test, you will print the online course completion document. This document will act as temporary boating license for all Canadian provinces.

Get your Pleasure Craft Operator Card.

You will receive your Pleasure Craft Operator Card in the mail in 2–3 weeks. The Canada PCOC is recognized in all Canadian provinces.
Transport Canada Requirements for the PCOC
There is no minimum age requirement to take this online course.
You do not have to be a resident of Canada to take this online course.
If you want to operate a pleasure craft for recreation in Canada, you must complete a boater safety course and pass the Transport Canada Exam. If you are a non-resident boater, proof of certification from a NASBLA–approved boating course is required for boating on Canadian waters.
Start the Course
What to Expect From Boat Ed
Live‐Action, High‐Definition Videos
Our course videos feature a combination of professional educators (who double as professional actors), entertaining storylines, and up‐to‐date scenarios that give you one of the most effective ways to learn safe boating practices.
Comprehensive Instruction in Canada Boating Safety Education
This official training program is developed to meet the standards for Boating safety education established by Canada. Boat Ed is the only safety course provider that develops print materials on behalf of government agencies responsible for Boating laws and regulations.
Learn Your Way on Any Device
Boat Ed offers online courses that are fully mobile-friendly from start to finish. This safety course is designed to work on your smartphone, tablet, laptop, or desktop computer.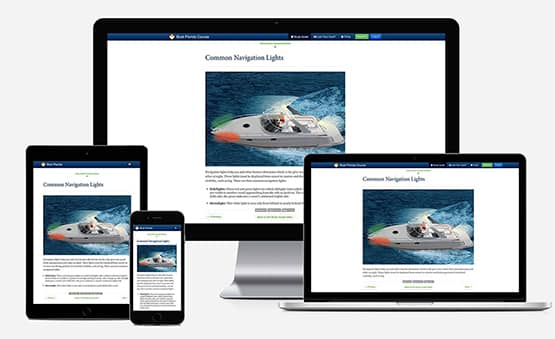 Saved Progress
You may complete the course at your own pace. The course can be completed in one sitting or a little at a time over several days. Log in and out at any time, and we'll keep track of your progress. Most students finish the course in a few hours.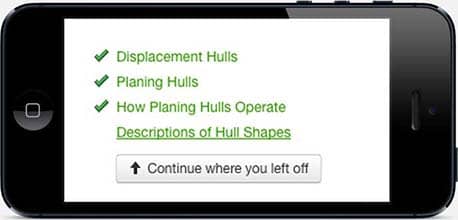 Boating in Canada
Canada is truly a boater's paradise. It features the world's longest coastline, with a myriad of freshwater lakes and jaw-dropping views. It is estimated that more than 2 million lakes exist in Canada, and 31,752 of those lakes are larger than three square kilometers or 741.32 acres. It is guaranteed that boating in Canada is a remarkable experience you will always cherish.
Canadian residents and non-residents are required to boat responsibly. There are various rules regarding safety equipment, safe operation of pleasure craft, and environmental protections that apply in Canada. Of these rules, the Operator Competency requirements are the most significant.
The Operator Competency requirements mandate all persons who operate a pleasure craft to carry proof of competency on board if the pleasure craft has any type of motor. These regulations also apply to non-residents if they wish to:
Operate a pleasure craft in Canadian waters for more than 45 consecutive days or…
Operate a pleasure craft licensed or registered in Canada (including rented or chartered boats).
The regulations do not apply to non-residents who operate their pleasure craft in Canadian waters for less than 45 consecutive days. However, proof of residence will be required on board at all times. In order to abide by the operator competency requirements, you will require a Pleasure Craft Operator Card (PCOC).
The Canada Pleasure Craft Operator Card (PCOC)
How to Get a Pleasure Craft Operator Card (PCOC)?
To obtain a PCOC, you must take the Transport Canada–approved boating safety course. The Boat Ed® boating safety course was developed specifically for Transport Canada to meet the competency requirements for the PCOC.
You Must Carry the Card
Pleasure craft operators who are required to have a Pleasure Craft Operator Card (PCOC) must carry the card on board the vessel and have it available for inspection by an enforcement officer.
Is the Canada Boating Licence the same as the permanent Pleasure Craft Operator Card?
No. Because the Pleasure Craft Operator Card does not expire and does not need to be renewed, it is not called the Canada Boating Licence.
I do not have a driver's licence. Can I still get the Pleasure Craft Operator Card?
Yes. You are not required to have a driver's license in order to obtain a Pleasure Craft Operator Card.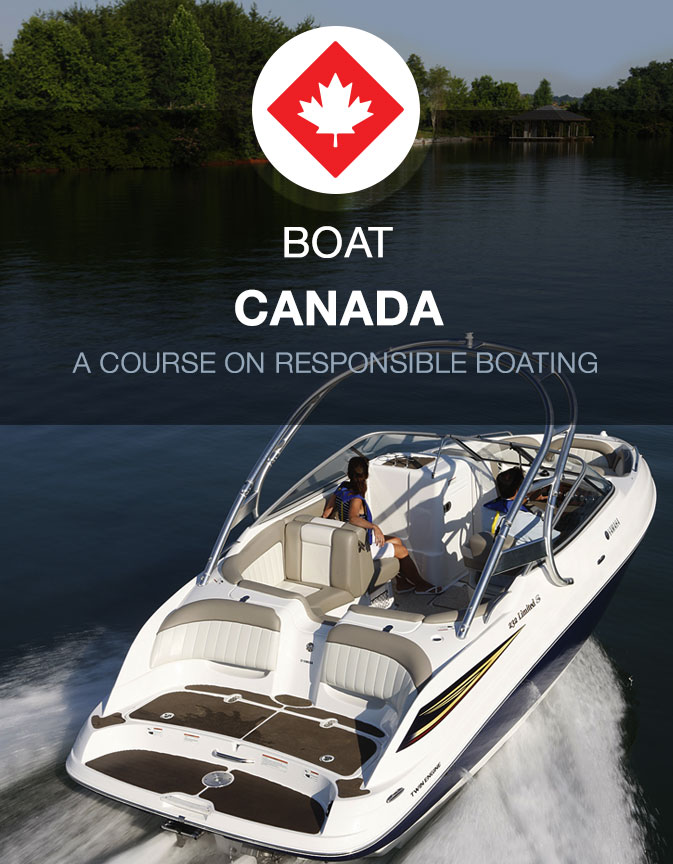 Canada Approved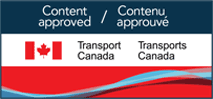 Transport Canada
Tower C, Place de Ville
330 Sparks Street Ottawa, Ontario
K1A 0N8
Made in North America
This safety course is proudly made to serve students, agencies, and organizations worldwide.
Start the Course
We're people, not robots.
Your Boat Ed course comes with a dedicated customer service team made up of real people, not robots. We're here to provide assistance to you through all channels—phone, email, and chat.
We're available to help you:
9:00am to Midnight EST, seven days a week.
1-800-830-2268 (toll free)