The New Hampshire Proctored Exam
Important Proctored Exam Information
Locating and Signing Up for the Proctored Exam
After passing the online portion of the New Hampshire Marine Patrol Boating education course, you will need to locate and sign up for the required Proctored Exam.
Locate and sign up for the Proctored Exam in your area.
Important! Bring your photo ID and your Proctored Exam Voucher to the Proctored Exam as proof of having completed the online course.
Warning! Passing the online course does not guarantee you a spot at the Proctored Exam.
Get Certified Online!
Take this New Hampshire–approved course to complete your online boating safety education.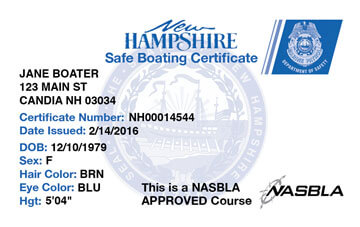 Lifetime Card