Official Texas Boating License Online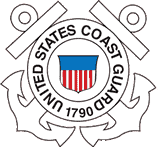 Take this Texas–approved online boating course to complete your boaters safety education. Boat-ed.com is a delegated provider for the Texas Parks and Wildlife.
How to Get your Boating License in 4 Easy Steps
Step 1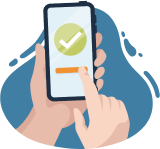 est. 2–3 mins
Sign Up
Getting started is easy, simply sign up for a Boat Ed student account, pay for the official, state-approved course, and visit your student dashboard.
Step 2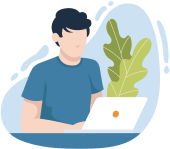 est. 3–4 hrs
Study & Pass at Your Own Pace
Take the course on any desktop, tablet or mobile device, and don't worry about completing everything in one sitting. We save your progress after each lesson!
Step 3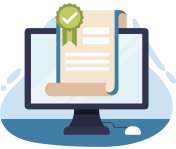 est. 1–5 mins
Print Your Temporary License Immediately
After successfully passing the final exam, you're able to print a temporary boating license and go boating right away!
Step 4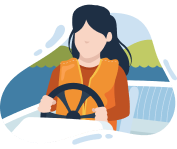 est. 0 mins
Get on the Water!
That's it! You're ready to confidently and legally drive a boat. Also you'll now have access to exclusive offers on additional courses and products!
Do you need a Boating License in Texas?
Texas law requires all boat operators born on or after September 1, 1993, who will be operating a PWC, a motorized boat over 15 hp, or a sailboat over 14 feet in length to pass a boater safety course and to carry a boater education card.
Texas Parks and Wildlife Requirements
You must be at least 13 years old to take this online course.
You do not have to be a resident of Texas to take this online course.
What to Expect From the Boaters Safety Course
Live‐Action, High‐Definition Videos
Our course videos feature a combination of professional educators (who double as professional actors), entertaining storylines, and up‐to‐date scenarios that give you one of the most effective ways to learn safe boating practices.
Comprehensive Instruction in Texas boaters Safety Course
This official training program is developed to meet the standards for Boating safety education established by Texas. Boat Ed is the only safety course provider that develops print materials on behalf of government agencies responsible for Boating laws and regulations.
Learn Your Way on Any Device
Boat Ed offers online courses that are fully mobile-friendly from start to finish. This safety course is designed to work on your smartphone, tablet, laptop, or desktop computer.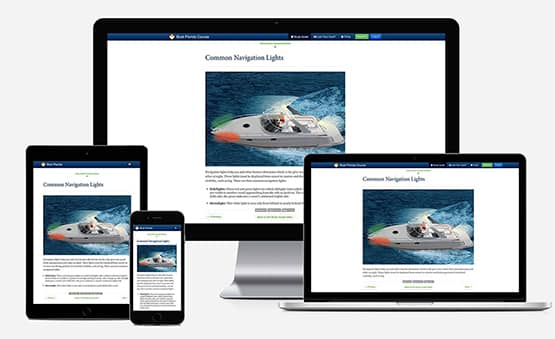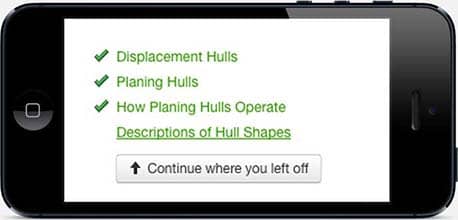 Saved Progress
You may complete the course at your own pace. The course can be completed in one sitting or a little at a time over several days. Log in and out at any time, and we'll keep track of your progress. Most students finish the course in a few hours.
Texas Approved Boating License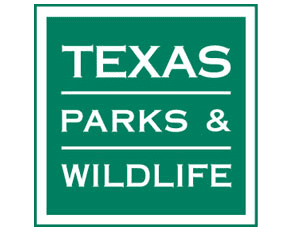 In Texas, everyone born after September 1, 1993 needs a boater education certificate to operate a personal watercraft (PWC). If you were born before that date, you're exempt from the requirement, but taking a course is still recommended to learn boating laws and safe practices.
To get your boater education certificate, you can take any online course approved by the Texas Parks and Wildlife Department. Once you complete the course and pass the exam, you'll receive your lifetime certificate, which is recognized not only in Texas but in all states that have mandatory boater education requirements.
When operating a PWC, remember to follow these safety guidelines:
Always wear a life jacket while on the water.
Keep a safe distance from other vessels and objects.
Avoid reckless behavior such as jumping wakes or weaving through traffic.
Always maintain a proper lookout and be aware of your surroundings.
Know the rules of the waterway, such as no-wake zones and speed limits.
By obtaining your boater education certificate and following these tips, you can enjoy your jet skiing experience in Texas while staying safe and legal.

Protect your on-water adventures
Relaxing on the water is easy when you're protected with a leader in boat insurance. Progressive has the coverages you need to explore carefree and full of adventure! Discover how we can protect your boat today with coverage we offer to the 1 million+ watercraft we already insure.
Get a Quote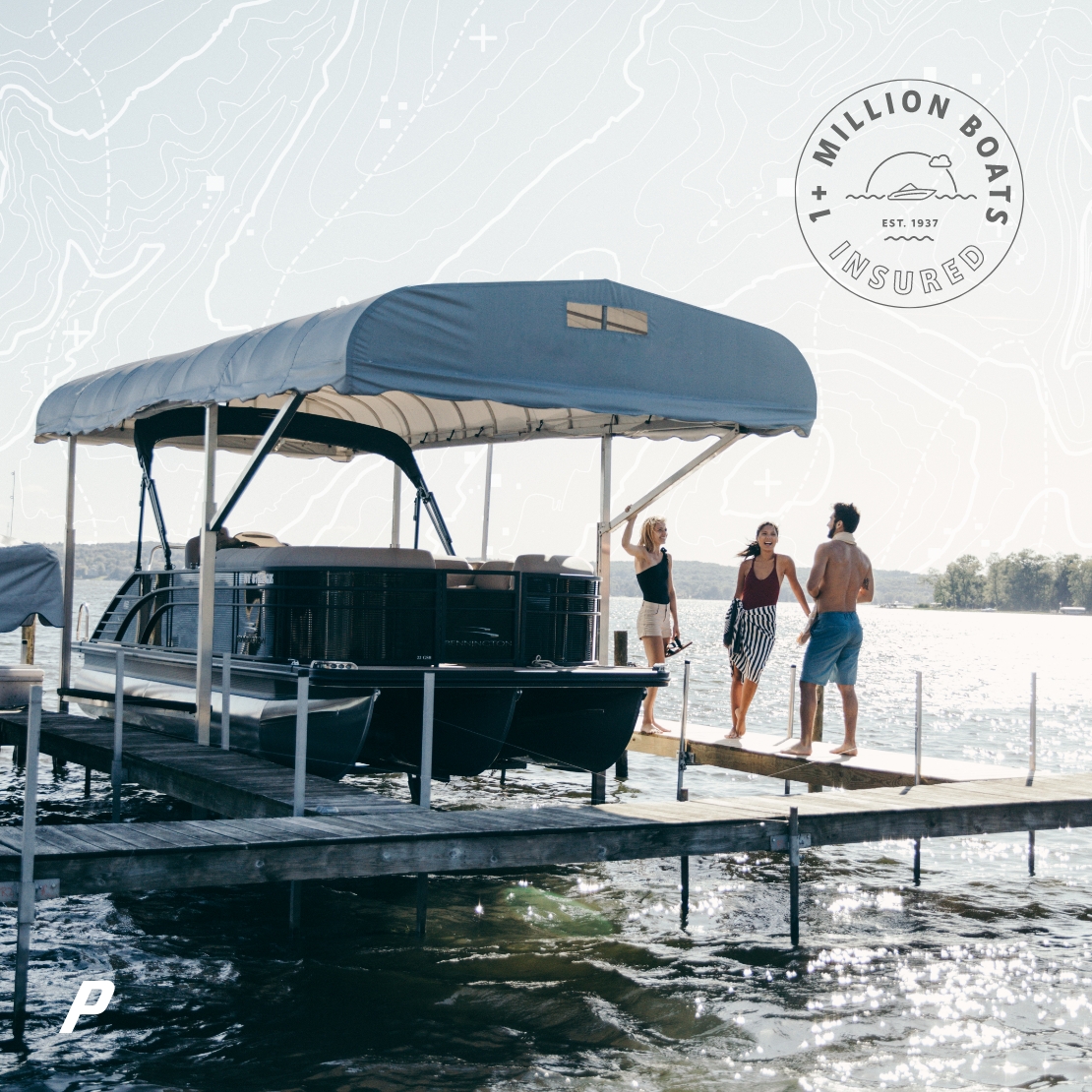 A Wavve of Savings
Get your first year FREE!
Complete your course and get the first year of Wavve Boating for FREE.
Learn More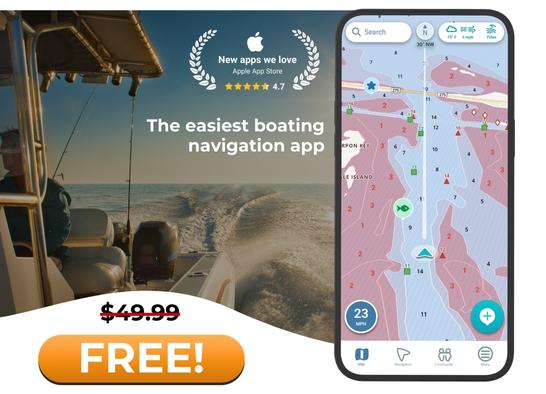 Price and Payment
How much does the Texas Boat Ed Course cost?
The Texas Boat Ed Course fee is $39.95. You will also pay a $10.00 Texas Parks and Wildlife fee.
Your temporary certificate is valid for 60 days. Please wait for at least 2 weeks before attempting to print your card or calling TPWD about your certification.
Go to https://tpwd.texas.gov/
In the navigation bar, under boating, click on boater education
Click on print your certification card.
Enter your Name and Date of Birth. (Make sure the Name you enter here is the same that was used while registering for the course. Click on search.
After you verify your information, click on Print to print your permanent certificate.
Taking the Course
Are there any age or operator restrictions for boating in Texas?
Do I have to complete the course all at once?
You may complete the course at your own pace. The course can be completed in one sitting or completed a little at a time over several days. All pay-up-front courses are available for 90 days from time of registration and payment.
What is the minimum age to take this online course?
You must be at least 13 years old to take this online course.
Do I have to be a resident to take the Texas Boat Ed Course?
You do not have to be a resident of Texas to take this online course.
Course Approval and Acceptance
Is the Texas Boat Ed Course approved by the Texas Parks and Wildlife?
The Texas Boat Ed Course is approved and accepted by the Texas Parks and Wildlife.
Is my Texas Boater Education Certificate accepted elsewhere?
For visiting boaters, all states, territories, and provinces will recognize boating education cards that meet NASBLA requirements and Canadian Pleasure Craft Operator Cards that meet Transport Canada's requirements. (This is known as "reciprocity.")
Quizzes and/or Exams
I failed a unit quiz. Have I failed the course?
If you fail a unit quiz, you must restudy the unit and take the quiz again until you pass. You must score at least 80% on the unit quizzes to pass.
Do I have to take an online exam?
The Certification Exam is the exam you take at the end of the online course. You must score at least 80% on the exam to pass. You have unlimited attempts to pass the exam. If you don't complete the exam in one session, don't worry. When you log in later, you will be taken to the first unanswered question of the exam.
About Your Certification
What is the proof of online Texas Boat Ed Course completion?
Once you pass and pay for the online course, you will be able to immediately print out the Temporary Boater Education Certificate. This is your proof of online course completion. You can print the Temporary Boater Education Certificate right then, and/or request that a PDF be emailed to you. This certificate EXPIRES 60 days after course completion.
What is the permanent Texas Boater Education Certificate?
You'll be emailed a link to get your Boater Education Certificate by the Texas Parks and Wildlife 60 days after you complete all certification requirements.
Replacement of Lost or Damaged Documents
How do I replace my Boater Education Certificate if I've lost it or it has been damaged?
We're people, not robots.
Visit our Boat Ed help center for frequently asked questions, troubleshooting, or for further customer support!