Official Boater Safety Courses
and Boat Safety Education Materials
We know boater education can save lives and reduce accidents and injuries on the water. In the United States, more than 40 states have educational requirements for operating a boat or PWC on state waters. In Canada, all provinces have educational requirements for operating pleasure craft.
Boating safety is a concern for everyone on the water. Boaters can keep themselves and their passengers safe by learning about responsible boat operation, etiquette, and the rules of the waterways.
What boaters are saying about our online boater's safety course
"This is a really well-done service. My son and I took (and passed) the course from his Mac laptop and my iPad—everything worked the way it was supposed to. I am very impressed with this whole process. Thanks!"
Listen to this testimonial

"… I just want to tell you that as a professor, I'm an educator, and your course is absolutely fantastic. It really is very well done, there's a real attention to detail. Your course is excellent."
Boat Ed has a TrustPilot rating of 9.1 out of 10 based on 213 ratings and reviews.
Comprehensive Boater Education Resources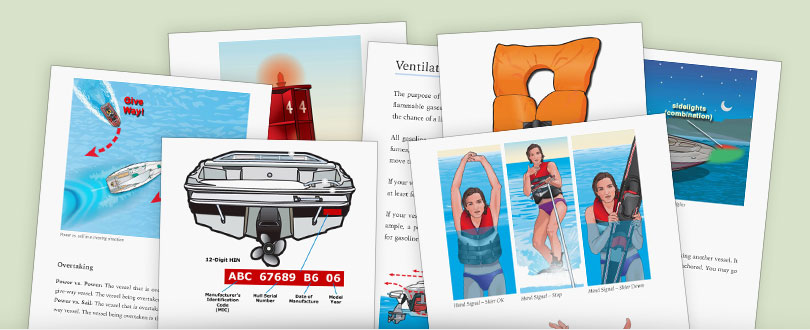 Boat Ed is the only boating safety education course and exam provider that develops online courses, eBooks, and print materials on behalf of government boating and boater safety agencies in North America. Boat Ed also develops materials for the U.S. Coast Guard Auxiliary.
It's the law! Law enforcement officers patrol the waterways to make your boating experience safe and pleasant. Cooperate with them by knowing and following your state or province's safe boating laws and guidelines found in our boater's license courses and boater safety handbooks.
Even if you're not required to pass a boater's license course in your state or province, boater safety is everyone's responsibility. An educated boater is a safer boater.